Amish Farmers online store will be available soon
Testimonials
The best store ever!!!! Fresh items to choose from with great prices. My daughter highly recommends their crossaints and will choose this place over a special treat from anywhere else any day! So glad we found it and the staff are all so friendly and amazing. We are new to the area and this place made us feel at home.

Eva
Great treat in the Northwest 'burbs!
A simple, unassuming little store. Filled with farmers' market style fair with the addition of a refrigerated section and a nice selection meats. I highly recommend the smoked salmon, both the plain and cracked pepper. Also great are the smoked sausages, the cheeses and more jams and jellies you could ever hope to want.
We did not get any eggs but they looked amazing. Will update this post with future visits.

Timothy
Absolutely love this store !! My family and I found our new store to shop at. Customer service is Absolutely fantastic!! The two guys made our family feel so welcomed. We appreciate your kindness and hospitality. The food is delicious... Yummy.

Rachel
My favorite store. Always fresh and best quality products. Veggies and fruits, dairy, fresh meats, bakery, and much more, all organic or amish. Highly recommend!

Anastasiya
Keith and literally every person in the store went above and beyond to help me locate items and remembered me from my time in the store before. The food is fresh, authentic and dang good. Love bringing good bread and amazing cabbage rolls over to my friend's dinner parties. 5/5 stars!

Andrew
This is absolutely the best grocery store i have ever been in!!! They have the best cold cuts ever. Also the variety of everything from the deli to the breads to the hot meals to the fruits and veggies everything is fresh and delicious!!! Don't even get me started on the staff. Everyone is skilled and friendly. Ask for Russ he is the manager and he is absolutely great. If you haven't been there go!

Andrew
Visited for the first time today, I'm a fan for life! An excellent selection of fresh and canned items. Really good prices, excellent dairy products and I was surprised to see a hot deli with a to-go lunch! Very friendly and helpful staff. I will be back again and again!

Kate
DISCOVER OUR STORE LOCATIONS
STORES OPENING HOURS
Frankin Park: MONDAY - FRIDAY 9.00 AM - 7.00 PM
SATURDAY 9.00 AM - 6.00 PM
SUNDAY CLOSED
Address: 9711 W Grand Ave Unit B, Franklin Park, IL 60131, United States
Call: 8479162483
STORES OPENING HOURS
Rolling Meadows: MONDAY - SATURDAY 9.00 AM - 6.00 PM
SUNDAY CLOSED
Address: 2122 S Plum Grove Rd, Rolling Meadows, IL 60008, United States
Call: 8472218468
LOCAL SOURCING
Amish Farmers stores provide a new environment that incorporates a grocery store, traditional butcher shop, buffet-style restaurant and farmers market — all featuring delicious, locally sourced, farm-to-table offerings.
WHY WE LOVE AMISH FARMERS?
The Amish are known as some of the best farmers in the world! The discipline, hard work, respect and love of the soil are qualities that are synonymous to the Amish culture and traditions. Moreover, life on a farm coincides with their religious beliefs and traditions.
To the Amish toiling with the soil, raising livestock, and growing their food is seen as cooperating with God's will. Communing with nature is a form of communing with God. To the Amish, farming is a sacred lifestyle dictated by the Scriptures. Furthermore, the Amish are firm believers of hard work, responsibility, simple living, and cooperation among the communities. 
We love Amish farmers for their dedication and sharing real healthy food with us.  We also admire them for their strong sense of community.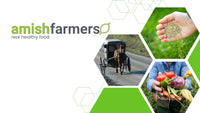 Our Mission
The more knowledge you have about the food you eat, the more powerful your choice can be."
Our mission is to help our customers to make better food choices by simply promoting healthy eating in our communities. We are sourcing and bringing real, healthy food from people who love farming, and respect soil, and their livestock.
Our policy is to deliver clean food from local farms to our stores within 12 hours to assure freshness. 
We offer only the best food available. Amish Farmers team sources GMO-free, natural food free of pesticides, and other chemicals.
We currently support 50 small Amish farms located in Wisconsin, Michigan, Illinois, and Indiana. Throughout the years we have built three greenhouses in an Amish community located in Michigan to be able to offer spring vegetables as early as possible. We also developed a small storage facility in Wisconsin in 2018 where we store vegetables during winter. During warmer seasons, as the stored food is no longer there, the building serves as a cooler for food that awaits our delivery truck.
We also support local artisans including butchers and bread makers as we believe in small batching, quality craftsmanship, and the incredible power of passion.